This week we finally have an Aussie throwing together a top 5 and as suspected it's a really cool one. I'm loving the pets that have popped up in a lot of these but I think this is the best story accompanying a pet in a top 5 yet. Also I bet one day that sweater will be worth a lot of money as it signifies an interaction with our very own Rev j. On a serious note though thank you stooks for putting this together for us and I hope everyone enjoys so check out this weeks member Stookie's top 5 and show some Aussie loveeeee.
MEMBER – STOOKIE – TOP 5 http://www.skateboard-city.com/messageboard/member.php?u=47404
Top Five in no order
1. Signed sports stuff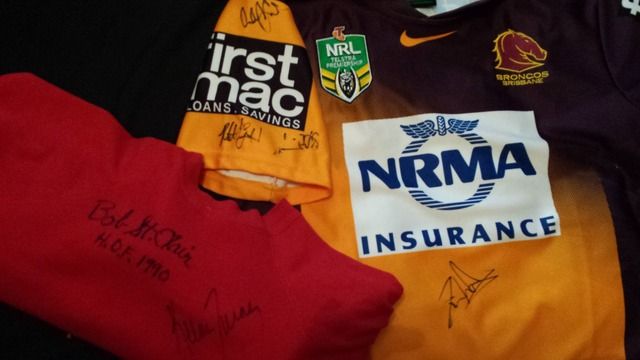 The 49ers sweater on the left is signed by Hall of Famer Bob St Clair, and Keena Turner. I found this in what we call in Australia an op shop i.e. a thrift shop, in San Francisco for $28. I thought this was a great price, and someone obviously overlooked the signatures. I didn't really know who they were until I did some research online; I also came to SBC for identifying Turner's signature, and was stoked he played in the Golden Era, with Young and Montana. Bob St Clair died recently, and even though personally he didn't sign the sweater for me, I still felt pretty bummed, as through watching a few videos I admired the way he played, and how he was so personable and articulate off the field. I believe he ran for Mayor of Daly City not long after his football career ended. This sweater for me isn't just about a #humblebrag but also representative of the sweet time I had in San Francisco (the trip I also met Rev J).
The jersey on the right is from the Australian rugby league, the NRL, and my team the Brisbane Broncos. My girlfriend gave the jersey to me for my 21st, and not long after we went to a game where I got it signed, most notably was Darren Lockyer (located in the centre), legendary player who played 355 first-grade games, and labelled as one of the greatest ever to play the sport. It pissed my girlfriend off to no end as she had just missed out on getting his signature for the second time haha. Also the jersey is special to me cause I guess it represents the period where things started getting fully srs with my girlfriend.
2. Ted and Cross Stitch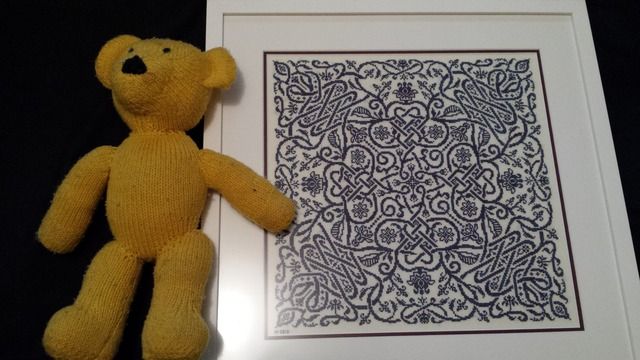 The bear has been with me since I was born, and was made by my paternal grandmother. He has always been in a prominent position in my bedroom, and I appreciate it more now that I notice my grandma getting older. She has early onset Alzheimer's now, and even making a cup of tea turns into a big ordeal. The dark-humoured side of me does find it a bit funny though, she is reverting back to childish antics you would expect a five year old to do.
The cross stitch was given to me on my 21st by my maternal grandma, who is right into that crafty stuff. When I first opened the present I was like… cool. Then mum made me feel like an unappreciative piece of shit, when she told me some facts about it. It took my grandma two years to make, with over 22,000 stitches in an intricate pattern. Apparently two years ago I said I liked this pattern in a magazine my grandma was reading, and she remembered it and got working on it right away. It is also hanging up in a good spot in my room, and no doubt I will have it for a very long time.
3. RM Williams Boots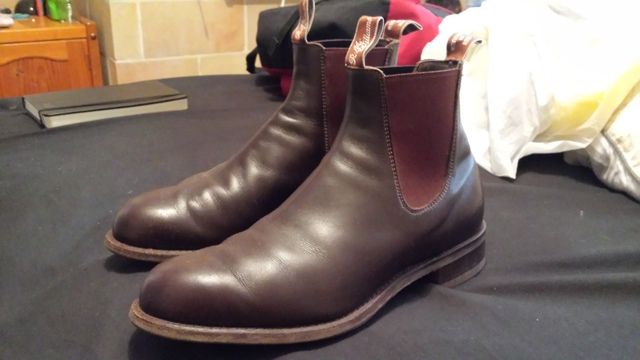 Found these in an op shop for $50, which I almost couldn't believe as they retail for over $400. Australian made. I guess to conceptualise it, they represent the slow transition into the adult world; I have worn them to various important events, job interviews and overall I guess every man needs a good pair of boots. They are broken in now, and I wear them most days of the week. They are comfy as fuck, and with the heel and insole combo, they give me an extra inch or two of height, which certainly doesn't go astray.
4. Citizen Eco Drive watch

This falls into the same vain as my boots. My dad for my 21st gave the watch to me, and I've worn it literally everyday since then. It goes everywhere with me and has become a part of me. This is also representative of the slow transition to 'manhood', and this watch has given me the confidence to do so. Not to discredit fully sicc bracelets from Etsy, but it feels like people in the business world take you more seriously with a watch on
5. My dog

My four-year-old Rhodesian Ridgeback x Bull Mastiff, Muttley (named after the cartoon character). I was in Melbourne when she first came into my life; I got a text from my sister saying there's a new dog in the house. I guess after my other Ridgeback died earlier that year (13 years), I couldn't fathom having a new dog. I detested the idea, and when my sister asked what its name should be, I said, 'Bumhairs' (a name that sticks to this day). However, as soon as I came home, out came bounding this 5kg puppy, I didn't even see the damn thing. With my suitcase I accidentally hit it right in the face, but it was love at first sight. She used to have a habit of cutting you off when you walked, and when I walked into my room, she cut in front of me and I accidentally kicked her into Kingdom Come, but we're best friends now. Never have I had something that has brought me so much joy, laughter, anxiety and anger over the past four years than this mutt.
http://www.skateboard-city.com/messageboard/showthread.php?t=294102