I've been fascinated for years about the fate of Detroit... Motor City. As somebody who works in finance, and has a great love of cars (admittedly less so American cars!) i find it absolutely amazing that in well under 50 years city can go from nothing, to the automotive capital of America, and back to nothing.
For those unaware, in the years that the auto industry in Detroit was at its height thousands of people began to leave the city to live in the suburbs, and then in the years up to the collapse and bankruptcy of General Motors in 2009 (and more so since then), Detroit has been overstretched and mismanaged, and as a result thousands morepeople have left the city. This has left hundreds of buildings deserted, from houses to libraries.
Now as a skateboarder, i see things a certain way, hopefully the same way you see things - to me an empty building isn't all bad - it's an opportunity!
Companies Under Dwindle Distribution
- Darkstar
- Almost
- Blind
- Speed Demons
- Cliche
- Enjoi
- Superior
All Dwindle Distribution decks are made in China at DSM Workshop.

(This is the deck I had.)
Now on to the review...
Shape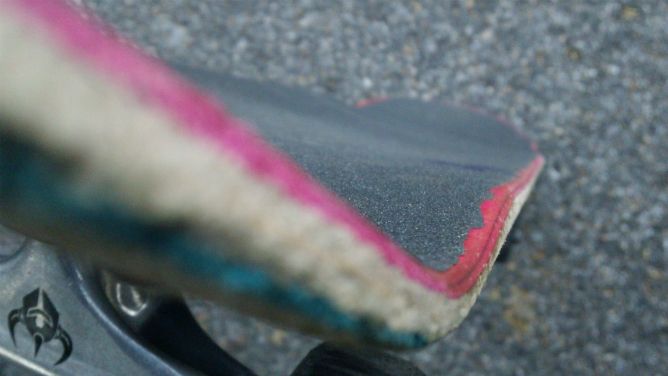 In this newest vid, we take a close look at Supra Skytops as well as some Terry Kennedy Society Satin Tuf models. After that, a hopefully coherent explanation of vulcanization, and how vulc and cupsole shoes differ. After that, breaking 'em in on portable flatbars.
Dunkees wants to see your best trick, and with these guys point mean prizes!
This is open to everyone on Skateboard-City, of all levels of skating, winners will be decided by the level or creativity with the trick, not only on how complex it is.
Contest ends 03/01/11.
1st place winner will get 2 free decks, with a runner up getting 1
Winners will be picked by me and one other member if he is down to help.




Post your videos in here and they can be of any trick you want!
Good luck!!!
Effective January 8, 2011 Scoff Skateboarding will close its doors to the retail world. This is the second time the business has done this (first time in July 2007) since it started in September 2004. Done to preserve the company's life and rebuild itself to come back at a later date. Scoff will no longer be making an effort to solicit to skate shops or productions of Skatelaces and apparel for retail sales alone.

By
Ynot
at 2010-11-21 20:59
Motherless Child - O.V. Wright
Come Back To You - Charles Hamilton
Streetlight Manifesto-One Foot on the Gas, One Foot In the Grave